When the A/D conversion finishes, it raises a "conversion complete" interrupt. This interrupt handler reads the values from the A/D ports and stores them in RAM. It then re-enables the 8 volt powering output.
The jitter is probably due to the variable length of time it takes the 1 msec interrupt to operate. In particular, it does a lot more things every 10 msec to deal with timers, sound management, etc.
There's really three levels of noticeable work in the 1 msec interrupt handler. Work that needs to be done every 1 msec, every 10 msec and every 100 msec. This probably corresponds to the 90, 110 and 130 µs observations.
There's also a very little bit of work done every 3 and 12 msec as well. The every three msec work is to start the A/D sensor and these are the only measurements that you are looking at. It turns out the 3 and 12 msec counters are offset by one - the 12 msec counter is set up so that it wraps one msec after a 3 msec event has happened so you'll never see this incremental work." Dick Swan
Asymmetry between steps duration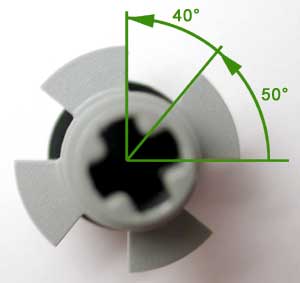 "In examining the rotation sensor, I wrote a RCX program that simply frequently sampled the raw rotation sensor value and looked for transitions from old to new value and stored them counts in a 16 element array. I had the sensor hooked up to a motor so that it was running continuously at a constant speed of about 300 RPM. I was sampling as fast as firmware would run and was getting about ten samples the same value before any transition.