A visit to


I was in Germany this summer, less than 100 km away from Günzburg. Impossible not to visit the new LEGOLAND® Deutschland park... and of course I carried along my camera!

Panoramic view of the park

Panorama, shot from the Legotop tower. I used this tower as a big motorized panoramic head, shooting photos as it spinned. Of course as my camera rotated a few meters away from its nodal point, I had some troubles stitching it! You can see the panorama as a flat image here.

As you can see, there is room around the park for future extensions...


Einstein's head

Ein Stein + ein Stein + .... + ein Stein = Einstein ! (in German, "a brick" is called "ein Stein")

You can't miss this monumental sculpture at the entrance of LEGO® Akademie. Using the same brick size, a much greater smoothness could have been achieved, but keeping blocky look of LEGO was clearly deliberate. Moustache and eyebrow structure is more detailed, and pupil of the eye, sideway mounted, is even more delicate.

This sculpture counts for a sizeable part of all bricks used in the park.

| | |
| --- | --- |
| | Miniland is the heart of LEGOLAND, here the LEGO lover will get inspiration from lots of buildings and vehicules. Distinctive features of several European towns are modelled with LEGO bricks. Country choice reflects expected visitors origin: Germany with Berlin, Frankfurt and Munich, Italy with Venice, as well as Netherlands and Switzerland. |

All over the park you meet LEGO sculptures and mosaics. Some of them are built with Duplo bricks (the giraffe, or the lion whose mane is done with Duplo monkeys...). All outdoor constructions are glued and varnished, indoor ones are only glued.

But why doesn't LEGO sell sets of the smallest sculptures as park specials? I'm sure this cute baby tiger would be a big hit !


A Technic sculpture and its model

Details


A Technic car and its inspiration
(Stuttgart Mercedes car museum)

There are a few Technic sculptures, I especially appreciated the tyrannosaure based on one of the models of set 8485, Technic Control Center II that I own. The scale of this monster is about 25, but the impressive thing is that each Technic brick is synthetized with standard LEGO bricks.


LEGO Fabrik

In LEGO Fabrik, you get an idea of the manufacture of LEGO bricks, from ABS raw material to finished products on shelves (I whish I have that many bricks !!!). Some equipments are true machines (for example the injection press - but it was not working while I was there) while others, such as the minifig product line are fakes.

This machine is used to stamp Fabrik logo on the bricks you are given as a souvenir at the end of the visit.

This poster on a wall of LEGO Fabrik, shows one problem I came across in the park: everything is in German, not a word in English (nor French or Italian...).

But though my German is very rusty, I had little understanding problems. And the introductory film shown at the Fabrik needed no translation: it was silent...


LEGOLAND Model Builders

| | |
| --- | --- |
| | At the exit of the LEGO Fabrik, there is a workshop where builders create the models and sculptures that will be used in the park. Seems to be a nice job, but maybe a little hasardous: look at the hand of the builder ;o) |


The Millipede Project

| | |
| --- | --- |
| | This cooperative effort aims the world record of the longest LEGO construction. Everybody can participate by building millipede modules. Each segment consists of one body part and 4 feets. |


Attractions, etc...

And as in every park, there are attractions... not the part I preferred, but you can have some fun with them, and you will discover a few sculptures, such as the stegosaurus at the Big Splash.

This section also contains a few photographs that didn't fit elsewhere.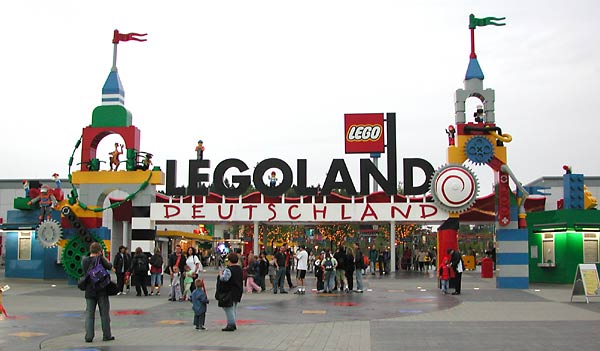 Goodbye, LEGOLAND !

LEGO®, LEGOLAND are trademarks of the LEGO Group. ©2003 the LEGO Group.
The LEGO Group does not sponsor, authorize or endorse this site.
LEGO has its own homepage: www.lego.com, visit also LEGOLAND Deutschland page.
Many names or terms used in this page are trademarks of LEGO. Some material may be © LEGO.